The Buonacorsi of Tuscany
Counts of the Holy Roman Empire

Ancient Tuscan family dating to at least the 11th century in northern Italy and surviving to the present day. The Buonacorsi (also Buonaccorsi, Bonacorsi or Bonaccorsi) are descended from the marquisate of the 11th-century House of Canossa, who were direct decendants of the Merovingian king Theodoric III. (Some "researchers" believe that this would identify the family as being descended from the Royal House of David, sometimes referred to as the Desposyni or Rex Deus -- note: such an assertion is most certainly fantasy). The name Buonacorsi derives from buona = good, and corso = course, path or stream. The title of marquis (marchese in Italian) applies to the noble controlling a march, a militarily-important course or path. An interesting note is that Michelangelo Buonarroti (buona = good, rotta = route or course) also believed himself to be descended from the marquisate of Canossa.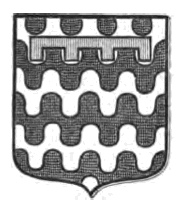 The Buonacorsi family name can be traced back to Buonacorso "dalle Zanè" Pitti, whose son Nero Baranto Pitti had a son also named Buonacorso, and who was one of the elders of Pistoia in 1377. Neri's son, Buonaccorso Pitti, authored the now-famous (and still-in-print) "Diary of Buonaccorso Pitti" ("Two Memoirs of Renaissance Florence," ISBN 0-88133-622). This Buonaccorso assumed the role of "Captain of Pistoia" on September 22, 1399, later served as Florentine Ambassador to various European courts, and went on to became a prominent member of Florence's government later in his life. The Pitti coat of arms was a shield with a wavy field of black and white, as seen to the right.
In 1400 he was elected Ambassador to the Court of Holy Roman Emperor Rupert, Duke of Bavaria. While in that position, he saved the Emperor's life by thwarting a poisoning plot instigated by the Duke of Milan. In 1401, Buonaccorso went on to successfully perform a dangerous mission for the Emperor, after which Rupert proclaimed "I will give you an emblem from my own coat of arms: the golden lion which you may include among your own armorial bearings. And I ennoble you and your brothers and your descendants." Buonaccorso was so moved by this that he proceeded to compose the following sonnet:

"This current year of fourteen one,
King Rupert, in his town of Trent,
Decreed my scutcheon might henceforth present
An armorial emblem of his own:
The golden lion rampant and, thereon,
Caused to be written in a document
My brothers' names and mine with his assent
So each of us might bear the lion on
His wavy field. Thence our privilege comes,
With lasting patents of nobility,
To bear this symbol bravely on our arms
Wherever such heraldic emblems be
Borne: here or in other realms,
And to hold land from kings in fee.
So, sons and brothers, nobly cultivate
Virtue as befits our new estate."
This account, from Pitti's own personal diary, corresponds very well with the following diploma of nobility found in the archives at Venice (from Heraldisch Genalogische Zeitsschrift, Aug, 1871) [1] [2]:
---
Letter of Familiaritas of Bonacorsi and his brothers, and that they can wear a coat of arms.
Rupert, by the grace of God King of the Romans, always August, to the noblemen, the esteemed Peter, Franz, Bartholmew, and Alois Bonacorsi, brothers of the same Bonacorsi family and esteemed sons of the late Nero, faithfully beloved of me and of the Holy Empire: Let there be royal favor and every good. Although a royal and liberal munificence rightly exists toward all the faithful of the Holy Empire, because of a certain general clemency native to it, nevertheless, it ought to extend more richly the gifts of its generosity to those whom reputation more solemnly gives evidence that they have labored with more fervent zeal for special honors of the Holy Empire. Hence, because with regard given to the constancy of loyalty and to the useful services of sincere fidelity, which you, Bonacorsi, have faithfully shown to us and to the Holy Empire, you and your brothers inscribed above ought to show to us something else. Wherefore, we graciously admit you and anyone of your family into our friendship, and we add you to the community of our friends, with firm acknowledgement, recognizing that you enjoy and rejoice in all individual privileges, prerogatives, favors, and liberties wherever you wish, which our other friends enjoy however they wish, forever, in all things, et that in all your individual dealings and those dealings incumbent upon you, you implore the royal crown under full faith. We also grant this special favor of our royal munificence of majesty mentioned above by royal authority for the present, both to you and to anyone of your family, and to those legitimately descended from you, that you and anyone of your family ought freely to carry and wear for the performance of military display in wars, tournaments, and whatever other military acts everywhere, a coat of arms depicted with respect to its circumference and colors accordingly in the handiwork of the painter, with special figures in its images, with any impediment thoroughly removed, with the arms of any others always preserved. The shape and figure of this coat of arms contains alternating black and white waves and through the length of the shield a golden rampant lion with a red crown and red claws as is depicted in its very form in the picture below.
The witnesses of this document are the Venerable Frederick, Archbishop of Cologne, Archchancellor of the Holy Roman Empire throughout Italy, Rabanus, Bishop of Spirensis, Conrad de Soltano, Bishop of Verden, the noblemen Emicho, Count of Lynnigen, Master of the Royal Curia, Guther, Count of Scwarzburg, Friederich, elder son of Morse and Count in Sarwerde, the Honorable Henry, superior of the Church of Saint Severinus, Colomanus Albert Goletus and Colbo de Buchart, soldiers, Nicloaus Buman, Prothonotary of the Royal Curia, Johann de Stamenstorff et Johann de Empache, Canons of the Church in Trent, Bertholdus de Novadomo, Rabanus de Helmstat, and Dieter Betendorffer, as testimony of this letter under the addition of the Seal of Our Royal Majesty. Given at Trent, the 15th day of the one thousandth, four hundredth first year of Our Lord, during the first year of our reign.
By order of the Lord King,
Johann Winheim
---
Buonaccorso's son, Luca "dalle Zanè" Pitti, built the Palazzo Pitti, in Florence. Buonaccorso's grandson, Bartolomeo, was gonfaloniere of Pistoia in 1417. Giovanni, Bartolomeo's son, held the same post in 1446. The Buonacorsi family (and all heirs general) later received the title of Count Palatine, by diploma of Pope Leo X 25 Dec 1514, first investiture in the Order of St Stephen 1614, Patricians of Pistoia 14 April 1755.
A 16th century Buonacorsi descendant went by the name of Bonus Kurz. He was Chancellor for Duke Wilhelm IV of Bavaria (1493-1550). He changed his name to the latin Bonus Curtius. His offspring went into the service of italian sovereigns and reverted to the original family name of Buona Corsi (Buonacorsi) in Italy. They became patricians of the city of Pistoia (located in the province of Florenz-Lucca), after which they reverted to the original form, adding Pistoia to the title.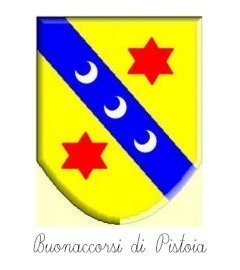 The Buonacorsi are Counts of the Holy Roman Empire. After an unexplained loss of contact, indirectly referenced in the letter from Georg to Maria linked below, descendants of the family were given formal recognition of the title of Count Buonacorsi di Pistoia (Tuscany mf), for Georg, Count Buonacorsi di Pistoia b. Freising 5 Feb 1796 + Flossing 4 Aug 1864, by Grand Duke Ferdinand IV, Florence 14 Nov 1859, and for the children of the same (Bavaria, mf) by King Ludwig II 17 Aug 1867, and (Austria, mf) 18 Jan 1868. An inscription was made in the Elenco Ufficiale delle Famiglie nobili titolate della Toscana with the title of Conte del Sacro Palazzo Lateranense (m) and Noble Patrician of Pistoia (m) 1904.
Georg moved from Italy to live with his sister Maria Magdalena in Bavaria, in 1866, as a result of the Austro-Prussian War. After Georg's son, Karl Albert Buonacorsi di Pistoja, the Royal-Bavarian First Lieutnant of the 4th Artillery Regiment at that time, provided documentary proof of his title, he and his sisters, later also his brothers, and their descendants, were recognized in the aristocracy register of the Kingdom Bavaria - ddo. Munchen, 25.9.1867. The family lived in Bavaria and could also be found in Salzburg, where branches were documented as early as 1706 in the land census.
Count Adolph von Buonacorsi di Pistoja, a Royal-Austrian officer, had been a well known researcher in the area of aeronautics and also the inventor of an "Auto-Dynamic Airship."
Another Count Buonacorsi, a lawyer, is recorded in Salzburg as having died in december 1881, in a carriage accident on the Wallersee near Salzburg.
Current Status: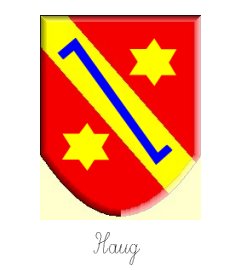 Georg's line is listed in the 1948 volume of Genealogische Hansbuch des in Bayern immatrikulierten Adels as extinct, having been wiped out by the Nazi regime. This Bavarian branch of the family was in fact not extinct, as the descendants of Maria Magdelena's line, the Haugs, had emigrated to America in 1913. Contact between the American descendants and any remaining Italian relatives was subsequently lost, and continues as such to the present day. The Haug arms, seen at right, are very similar to the di Pistoia arms, though, as the original 1401 diploma above makes clear, all descendants are entitled to the original Buonacorsi arms, as well.
After WWII, Italy abolished noble titles. Since the Count Palatine title was a Papal one, and since Papal titles were never abolished, however, it appears that the title may still be valid, even if currently dormant.
Documented lineage:
21) Buonaccorso "dalle Zanè" Pitti, born around 1317
20) Nero Baronto Pitti (called Neri), died April 25, 1374
19) Buonaccorso Pitti, born 1353, married Francesca di Albizzi
18) Luca Anziano "dalle Zanè" Pitti, born 1377
17) Bartolomeo "dalle Zanè" di Buonacorsi, Standard Bearer of Justice of Pistoia in 1417. Married Leonarda of Nicchio.
16) Giovanni "dalle Zanè" di Buonacorsi, Standard Bearer of Pistoia in 1446.
15) Girolamo "dalle Zanè" di Buonacorsi, born around 1486, who was a member of a high-ranking religious order in 1449.
14) Andrea "dalle Zanè" Buonacorsi di Pistoia, born around 1465, member of a high-ranking religious order. Married Madonna Alessandra
13)Bonifazio Ricciardi Buonacorsi di Pistoia, baptized in Pistoia April 10, 1485
12) Bernardo, "dalle Zanè," Buonacorsi di Pistoia, baptized in Pistoia June 5, 1526. First Married to Monna Lena Vanistani, then Married on October 13, 1568, to Marina Montemagni.
11) Dr. Cavalier Alberto Romolo Buonacorsi di Pistoia, baptized in Pistoia March 26, 1574. Died 1628. Lawyer, high-ranking religious order 1600-1612. Standard Bearer of Pistoia 1618. Invested in the Order of St. Stephen August 20, 1614. Co-founder of the Patronage Commende Buonacorsi in the Order of St. Stephen on May 19, 1615. Married Madonna Emilia Buonaccorso di Piero.
10) Dominus Cavalier Vincenzo Buonacorsi di Pistoia, baptized in Pistoia June 5, 1610. Died in Pistoia January 9, 1641. Married Maria Maddalena Sozzifanti. Invested in the Order of St. Stephen January 30, 1628.
9) Michele Alberto Buonacorsi di Pistoia (called Alberto), baptized in Pistoia September 30, 1632. Died August 30, 1706. Married Rahele Romola on February 17, 1667. Invested in the Order of St. Stephen February 24, 1649. Scribe of the Hall in 1655
8) Francesco Vincenzio Antonio Domenicao (called Vincenzo) Count von Buonacorsi di Pistoia, baptized in Pistoia March 1, 1669. Died in Passaw 1724. Appointed on January 15, 1689, by Prince-Elector Max Emanuel von Bayern, Squire, then Cornet, then Chamberlain on November 22. Colonel in the Regiment of General Count Rechberg on 3. Oktober, 1714. Married Maddalena Pruner
7) Givan Giorgio Count von Buonacorsi di Pistoia, born about 1695, Advisor to Aulico of Kranzberg, Elector of Bavaria July 30, 1729 - Married Maria Franziska Cafferein
6) Georg Karl Vincent, Count von Buonacorsi di Pistoia, born 3. August, 1751. Advisor and Director of the Forest of the Bishop of Freising - Married Antonia Datina
5.1) Georg Joseph Carl Blasius Count von Buonacorsi di Pistoia born 5. Februar, 1796, died August 4, 1864. Director of the Forest of the King of Bavaria. Count of Tuscany, Noble Patrician of Pistoia, Count of the Sacred Palace of Lateran. Married Franziska Gstirner. There is an entry about him in Ruvigny's "Titled Nobility of Europe," 1914.
and his sister
5.2) Maria Magdalena Stollnreuther nee Buonacorsi, Countess von Buonacorsi di Pistoia, born 1786. Married John Baptist Stollnreuther, Region Commisioner of Monaco -- (A letter from her brother, Georg, to Magdalena, dated 1841, still exists. Georg's line was designated as extinct in the official records by 1948.) Maria's death date is unknown, but the photo referred to below shows that she lived to at least 110 years of age.
4) Karl Stollnreuther, born 1821, Inhaber eines mathematisch, optischen Insitutes. Married Antonia Stollnreuther nee Mahler
3) Rosa Stollnreuther nee Haug, born 1856, died 1918. Married Karl Ludwig Haug -- (Here is a photo of the Haug arms from a family estate in Bavaria, and a family photo that includes, among others, Maria Magdalena, Antonia Stollnreuther, and Rosa & Karl Haug)
2) Anton J. Haug, born 1885. Married Charlotte MacDuffie (From Beacon Hill, Boston, DAR) (Note: A.J. was a successful U.S. inventor).
1) Marie Josephine Doyle nee Haug, born February 25, 1920, Married John Stuart Doyle
Note: A gold and jade ring is in existence, passed down from heir to heir from Countess Matilda of Tuscany (for which the Val d'Or and the Abbey of Orval were named), as well as a copper engraving of Pietro Graf Cardinal Buonacorsi, an oil painting of a young Buonacorsi with hunting dog, and a Klotz violin, dating from 1783, handed down from Maria Magdalena.
One notable Buonacorsi was Pietro Buonacorsi (aka: Perino del Vaga), a contemporary of Michelangelo.
---
Blazon of arms: (circa 1401) On a wavy field of Sable and Argent, a lion rampant of or, with an imperial crown of gules and claws of gules.
Blazon of arms: (circa 1870) Or, on a bend Azure between two stars of six points Gules, three crescents, the horns turned towards the dextral angle of the chief, Argent. The crowned helm is ensigned with mantling of gules doubled or a torse with five twists three or and two gules above which is the coronet of a count.
---
If you have any information to contribute concerning the Buonacorsi, please send it to info@buonaccorsi.org